Grameen Foundation AppLab in Action
Agriculture
In Uganda, most people lack access to critical farming information - such as which crops to plant, when to plant them, how to prevent and treat crop and animal diseases, or which market is offering the best prices for their goods. In close cooperation with local and international partners, as well as with the poor people who benefit from the initiative, Grameen Foundation's Community Knowledge Worker (CKW) program is helping smallholder farmers get accurate, timely information to improve their businesses - and lives. Grameen Foundation identifies, recruits and trains rural community members as CKWs who act as "trusted intermediaries" in their communities, using basic smartphones loaded with an application that helps them provide information services to their fellow farmers.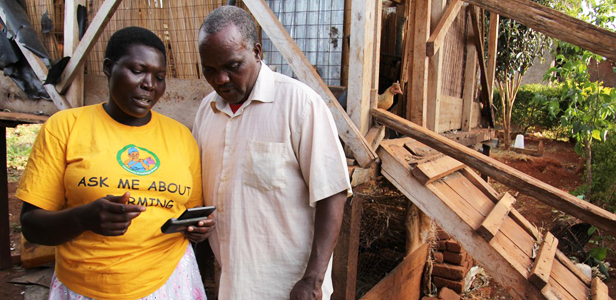 The CKW team has built a growing database of actionable agricultural information, contributed by agriculture research organizations and other experts, and reviewed by an Expert Review Board. By accessing this database - which contains more than 35,000 real-time tips on 35 crops, seven livestock animals, weather, market prices, transport directories, input locations and mobile-money agent locations - CKWs can help farmers make important decisions and improve their practices, enabling them to increase their yields and earnings. By partnering with local organizations, we ensure that the information is actionable, timely and tailored to local farmer needs.
We have also created mobile applications to manage teams of field staff and enumerators, and to enable CKWs to administer surveys. By collecting data from rural communities, CKWs can help experts identify disease and pest outbreaks before they become a widespread problem. They can also provide companies, governments and NGOs with information to more effectively and efficiently run their operations, and build programs and products that better address the needs of the rural poor.
Through this initiative, Grameen Foundation is improving the flow of information both to and from rural areas while creating a sustainable model that will continue to operate beyond the life of the project. For more information on the CKW program, please visit our site.