Fiona Byarugaba is Programme Management and Communications Officer, CKW at Grameen Foundation Uganda.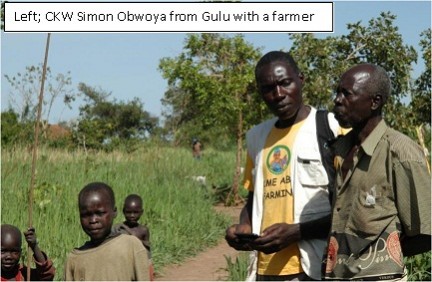 Samson Sabiiti Olet's goat was suffering from a disease unknown to him. In a state of panic, Samson met his village Community Knowledge Worker, or CKW, telling him that the goat's body was covered in "white dots." After the CKW looked at the goat, he opened his phone, and within seven minutes had discovered that Samson's goat was affected by ticks. Once Samson – a farmer from Oyam district, Adagayella village – started following the CKW's advice about how to treat the goat for ticks, all was well, and the goat has gotten its healthy appetite back again.
The journey of a thousand miles begins with a single footstep. Grameen Foundation helps the world's poorest people to take those footsteps and lift themselves out of poverty by providing mobile phone-based solutions that address "information poverty" in the fields of agriculture, financial services, health and livelihoods.
Yet we cannot be successful on this journey without partners that provide critical support for the solutions that we provide. We thrive on partnerships with various other entities to bring together people and technology to deliver highly impactful services to the poor. One of Grameen Foundation's most significant and long-standing partnerships is with MTN Uganda.
Together, Grameen Foundation and MTN have celebrated eight years of collaboration, beginning with the joint creation of the Village Phone program, which was subsequently acquired by MTN and is now called MTN Public Access.
We currently support almost 850 CKWs in 20 districts. In  two years, the CKWs have interacted with more than 65,000 smallholder farmers, providing information 740,000 times across 9,000 villages using the MTN network.
There is no putting into words the delight that can be seen on a poor farmer's face - watch video when they realize how powerful the phone that the CKW carries really is, thanks to the power of the Grameen Foundation-created database that it connects to.
One by one makes a bundle – and such bundles can be very strong indeed. We hope that this bundle will soon include each and every district in Uganda, as we build our strength one CKW at a time.