Julius Matovu is Research and Program Coordinator, AppLab Money Incubator, at Grameen Foundation Uganda.
Let me introduce two interesting petty traders based in Owino market – the busiest market in downtown Kampala. They are Akim, a secondhand-shoes trader, and Patrick, a secondhand-clothes dealer.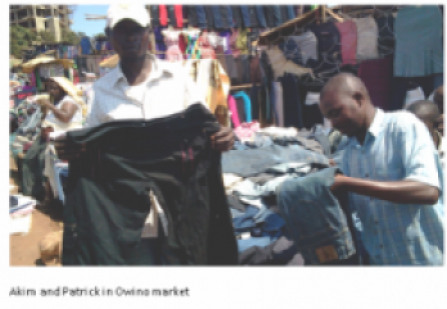 Last weekend I visited this market for a variety of reasons – including buying some "new" secondhand clothes to revamp my wardrobe. As I wandered through the market I came across these two different petty traders; because each of these individuals had something that I may need at some point, I had a good entry point for an in-depth interaction with each of them, to understand what they do. During my interactions, I observed a huge business potential based on the high number of people who visit Owino market every day. I also realized that for someone to tap into this opportunity, they must have sufficient capital.  Most petty traders do not have adequate capital and can not turn to formal financial institutions because they do not meet current requirements to access credit.
However, my newfound friends have found a solution to this problem. They have developed a network of people who run similar businesses within Owino, and rely on people in these networks to extend quick credit to each other in times of deficits.
For example, Patrick explained that his suppliers of women's clothing come to him at irregular times.  Sometimes they come to him when he has insufficient capital; and this is just one of the times he seeks help from colleagues like Akim. Patrick further disclosed that he borrows from Akim at least once in a typical week, taking out not less than 500,000 UGX (about $200) in a single loan that he pays back (with some negotiable interest) in two to three days.  He prefers to use this method as opposed going to formal financial institutions because he has no assets to offer as collateral. In addition, credit from friends is usually easy and fast – "hassle-free," he calls it.
For Akim, the value he attains from extending credit to Patrick is the assurance that when he needs credit in the future, his friend will return the favor and bail him out.
Reflecting on this, I came to the realization that such networks of social credit can play a vital role in the financial systems of rural Uganda, where formal financial institutions are hardly present or accessible.  What makes these networks even more interesting is the fact that they are driven by the elements of trust and reciprocity. Questions that come to my mind are:
How can we incorporate such elements of trust and reciprocity in new financial products?
As we think about new mobile money products, how can we facilitate the expansion of such networks to create larger pools of capital available to people who lack access to formal financial institutions?