Our database of agricultural information currently contains content on; markets, weather forecasts, a directory of farm input dealers and farming best practices related to maize, beans, matooke, coffee and other crops as well as animals. Farmers access this expert reviewed content either by visiting the CKW nearest to them (who queries the database using his or her phone and our custom built application) or sending SMS-based queries directly from their phones to our 178 short code on the MTN Uganda network.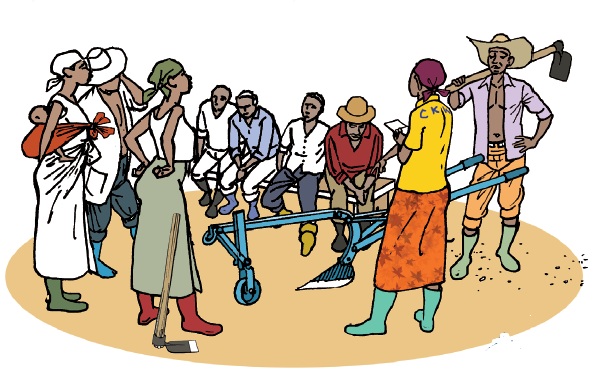 Our content partners appreciate collaborating with us for a number of reasons:
The information they generate can instantaneously be disseminated to extremely remote and rural farmers through our distributed network of CKWs and using mobile telephony

Information goes to many more farmers than is otherwise possible - for instance; each of our current 98 CKWs will reach an estimated 500 to 1000 farmer households in their individual communities

Farmers get the information on demand, can ask supplementary questions and receive reminders from CKWs, increasing chances that they will act on it

Information on our database can be improved whenever we receive feedback or partners request it

Users and usage can easily be followed since our applications capture GPS/Location information and user profiles with each query
See our full menu of Information Services for more information on services that could help your organization achieve its goals of reaching rural Ugandans more effectively while learning about their needs and preferences. 
We collect, analyze and deliver farm level data for research, extension and commercial agricultural organizations/ companies that wish to learn about farmers' conditions, needs and practices.
CKW mobile data collection has for these organizations proved better than the traditional paper form research because:


It's faster - we design mobile application that disseminate, administer and submit surveys with virtually no time lapse between the three process

It's more versatile - features such as skip logic, loops and automatic data validation can be built into the mobile survey at the design level

It's more accountable -our mobile survey applications capture GPS/location information and respondent profiles with each survey, making any follow ups much easier to target

It is more easily scalable - for example in Kapchorwa alone, we have 98 CKWs each with the ability to reach 500 households for survey administration

It's less cumbersome - our CKWs are trained data collectors who often need no additional training with new surveys

Plus, we can manage the entire process from survey design to study reporting!
We design cutting edge mobile applications that push, pull or combine both functions as far as information exchange is concerned. All our code and current applications will be released to the public under an open source license. We also build customized applications for special information types our partners may wish to exchange with farmers. Key functions of our applications include:


Capture of GPS/Location Information

Integration with a web based back-end that makes updating content on applications easy

User friendly front end interfaces

Most apps are information agnostic and so are easy to adopt to individual purposes

Support capture and storage of usage statistics
Take a look at our current applications and their functionalities