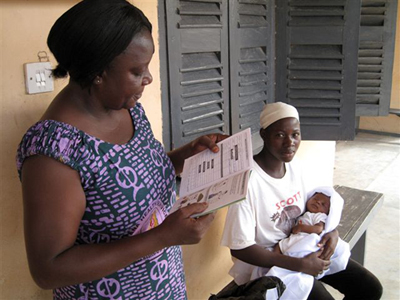 A nurse reviews the immunization records of a newborn in
the upper East Region of Ghana
Mobile phones have become a pervasive technology in developing countries. But can information delivered over a mobile phone change the outcome of a pregnancy? Can a network of mobile phones be deployed that coherently engages communities and healthcare workers to save the lives of newborns?
Grameen Foundation has launched an initiative to determine how best to use mobile phones to increase the quantity and quality of antenatal and neonatal care in rural Ghana. Funded by a grant from the Bill & Melinda Gates Foundation, the Mobile Technology for Community Health (MoTeCH) initiative is a collaboration with Columbia University's Mailman School of Public Health and the Ghana Health Service. The two and a half year project will develop a suite of services delivered over basic mobile phones that provides relevant health information to pregnant women and encourages them to seek antenatal care from local facilities. After the birth, the system will address common questions about newborn care. Simultaneously, the MoTeCH system will help community health workers to identify women and newborns in their area in need of healthcare services and automate the process of tracking patients who have received care.
In 2000, the Government of Ghana scaled up their community-driven approach to health care services. Known as "CHPS" (Community-based Health Planning and Services Initiative), the program relocates nurses from clinics to communities and mobilizes volunteerism and social support for their work. Unfortunately, the program has yet to achieve its full promise as a scaled up service system as community nurses often base their work in village health posts, failing to provide much needed doorstep care. Needs associated with pregnancy, delivery, and early infancy remain neglected, in part because information available to nurses and volunteers is inadequate for supporting home-based services to newborns.
MoTeCH seeks to alter this dynamic by enabling the delivery of relevant and actionable information over mobile phones. Pregnant women will register by providing their phone number, the name of the area in which they live, their estimated due date, and their language preference. They will then begin receiving SMS and/or voice messages that provide information about their pregnancy (e.g., milestones in fetal development), the location of the closest health facility, and specific treatments that they should receive during their pregnancy (e.g., tetanus vaccination).
Some of the messages the woman receives will be specifically relevant to her history of receiving antenatal care. For example, someone who has not received a tetanus vaccination will receive a message specifically about the importance of tetanus immunization. Services will also be created that allow an expectant mother to send health related questions via SMS and receive an automated response that is relevant to their question. Once her child is born, the mother will receive messages and information about essential vaccinations for her child and how to manage critical childhood illnesses.
Specific tools will also be created for Community Health Workers. A huge amount of energy and effort is currently invested tracking patients and services in a wide range of forms and registers. In close consultation with the Ghana Health Service, a simplified patient register will be established. Information from this register will be entered into MoTeCH via the health workers' mobile phone. This will simplify daily record keeping as well as vastly reducing the amount of time currently spent aggregating data for monthly reports. Since antenatal interventions will be recorded using this system, MoTeCH will be able to send messages to expectant mothers if they have missed critical antenatal care, health care workers can receive feedback about the number of women in their area who have received proper antenatal care, and administrators in the health system can track the delivery of services across specific geographies.